Zion's name and Logo
The name Zion appears hundreds of times in the Bible in the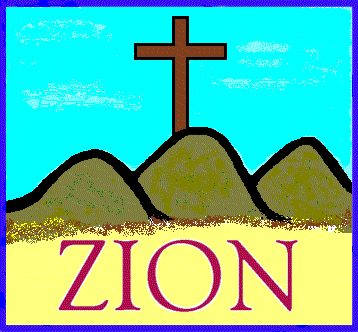 book of Psalms and the books of the prophets. Many times it refers to the dwelling place of God or the place where He is worshipped, a high and holy place. Sometimes Zion refers specifically to the temple hill in Jerusalem and is frequently coupled with the word mountain as in "Mount Zion" or "Zion .... my holy hill".
"Sing praises to the Lord enthroned in Zion, proclaim among the nations what He has done" (Psalm 9:11)

So we find Zion a very meaningful name for this place where we worship our God and proclaim his Word.
Our logo combines the name ZION with the mountain imagery and the cross of Christ - and notice that the cross is in the center and above all else. This is intentional, for "His name is above every name... that at the name of Jesus every knee should bow and every tongue confess that Jesus Christ is Lord to the glory of God the Father."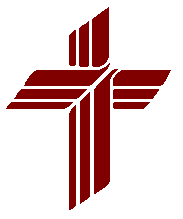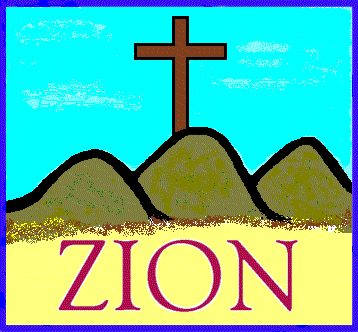 Who We Are
Zion Lutheran Church is one of over 6000 local congregrations of the Lutheran Church- Missouri Synod.
Being "Lutheran," we accept and teach Bible-based teachings of Martin Luther that inspired the reformation of the Christian Church in the 16th century. These teachings can be summarized in three short phrases: Grace alone, Scripture alone, Faith alone.
Grace alone
We are saved only by God's grace. God loved us so much that even though we are do not deserve his love, he sent Jesus, His Son to pay the price of our sin and freely offer us the gift of eternal life with Him.
Scripture alone
We believe that the Bible is God's inerrant and infallible Word, in which He reveals His Law and His Gospel of salvation in Jesus Christ. It is the sole rule and norm for Christian doctrine.
Faith alone
By His suffering and death as the substitute for all people of all time, Jesus purchased and won forgiveness and eternal life for them. Those who hear this Good News and believe it have the eternal life that it offers. God creates faith in Christ and gives people forgiveness through Him.
The word "Synod" in The Lutheran Church--Missouri Synod comes from the Greek words that mean "walking together." We voluntarily choose to belong to the Synod,and with all the other congregations of this church body, we hold to a shared confession of Jesus Christ as taught in Holy Scripture and the Lutheran Confessions.
Visit http://www.lcms.org/ to learn more about the Lutheran Church-- Missouri Synod.
At that site, choose "WHO WE ARE" or "BELIEF & PRACTICE" for more comprehensive information about the origin and teachings of The Lutheran Church-- Missouri Synod.